An EU4Climate regional workshop in Brussels, on April 26, 2023, gathered 46 representatives of UNDP, EU and Eastern Partner (EaP) governments to exchange ideas on mainstreaming climate policies, finances, and legislation with the aim to support low-carbon development.
EaP countries face high vulnerability to the harmful effects of climate change, while natural disasters are becoming more frequent. To ensure effective implementation of the Nationally Determined Contributions under the Paris Agreement and achieve decarbonization objectives, countries are increasingly introducing climate change policies to key economic sectors, such as energy, agriculture, transport, health, etc.
Institutional cooperation and mainstreaming of these policies, as well as finances and legislation across economic sectors, from industry and energy to transport and farming in the EU and EaP region is key to developing and implementing effective and efficient programmes to support low-carbon development and adapt to climate change.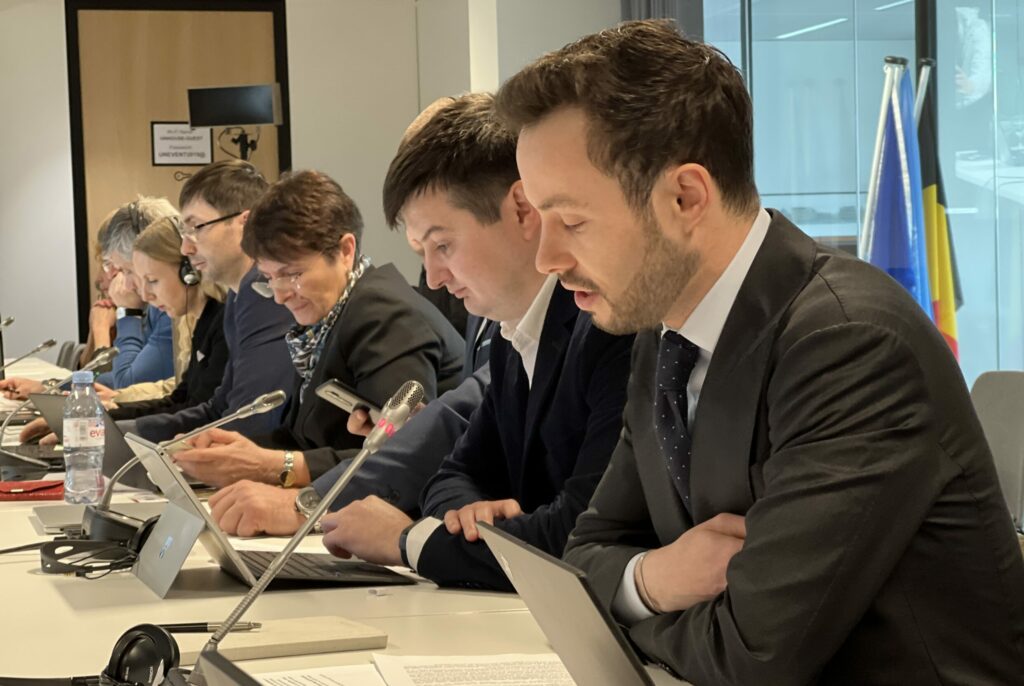 Recalling the European Green Deal in his opening remarks, Erwann Martin (DG NEAR) mentioned the European Climate Law which is to make carbon neutrality targets legally binding in the EU, and which also sets a new, more ambitious net greenhouse gas emissions reduction target of at least -55% by 2030, compared to 1990 levels. "Despite a short-term need for alternative fossil fuel supplies, the European Green Deal is instrumental in addressing some of the implications of the war in Ukraine. It can facilitate an integrated response that considers the global concerns raised by the concurrent geopolitical and socio-environmental crises in both the short and long term".
Georges van Montfort (Deputy Director of UNDP, Brussels) said that despite extreme challenges, all countries of the Eastern Partnership region remain committed to enhancing their efforts to address climate change and to implement the targets set in their commitments to the Paris Agreement.
EaP countries have already developed a series of studies and plans looking at energy, agriculture, health, gender, transport and waste management sectors, all activities which need to be continued and enshrined in policy planning.
This is where the EU4Climate initiative funded by the European Union and implemented by UNDP supports EaP governments' efforts to fight climate change and develop and implement climate-related policies. Specifically, the Climate Mainstreaming component of the EU4Climate project promotes the establishment of concrete sectoral guidelines for the implementation of the Paris Agreement in each of the Eastern Partners.
"UNDP and partners built this workshop on the experience of the EU institutions and Member States in sectoral mainstreaming of climate change into the key economic sectors. This is one of the important steps in moving forward from establishing the strategic climate change policies to implementing them", noted Georges van Montfort.
Natia Natsvlishvili (Resident Representatives of UNDP in Armenia), and Nick Beresford (Resident Representatives of UNDP in Georgia) shared country-specific insights during the workshop about climate change programmes and initiatives on the ground realised in partnership with the international community, the governments of Armenia and Georgia and other UNDP programmes. Specific emphasis was given to the Low Emissions Development Strategy of Georgia lately approved by the government as an important step forward in creating a green and just transition in Georgia.
EaP countries shared their experiences and expectations with a special focus on budgeting and financial instruments. Climate mainstreaming in the EU Multiannual financial framework (MFF) presented by Alessandra Sgobbi (DG NEAR) introduced some insights into how the EU achieves climate and environment objectives while details about the EU taxonomy and how it can be helpful in guiding private and public investments in financing green transition were presented by Serge Giacomotto (DG Climate Action).
Good practices of mainstreaming by the EU member states in the energy sector were brought to the participants' attention by Yann Mercier (DG ENER). Status and lessons learned during the process of introducing Energy and Climate Governance and preparing National Integrated Energy and Climate Plans (NECPs) in the Eastern Partnership region were presented by Peter Pozsgai (Energy Community Secretariat).
Group discussions on mainstreaming in the energy and agriculture sectors highlighted main challenges and possible solutions, with the energy group pointing out the difficulty of reaching out to different stakeholders, while the agriculture-related group tackled food security and other issues, including in Ukraine. Another important aspect raised as requiring attention was the need for integration of climate and agriculture policies, and for more scientific research in the sector is suffering from a lack of data.
Summary of sectoral mainstreaming studies and experiences made in Armenia, Azerbaijan, Georgia, Moldova and Ukraine can be downloaded here.
All presentations can be downloaded here.